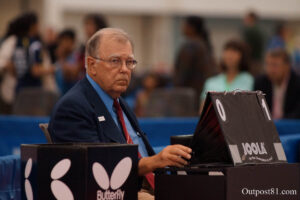 Dr Bill Walk Profile
Bill Walk is our 'grandmaster' and 'grandfather' of western PA pong.  Bill has been playing the sport for over 50 years, and has served the sport in numerous ways.   He has been an International Umpire since 1979 and an International Referee since 1992, one of 7 in the US.   He has been to Japan, Germany, and   the Barcelona Olympics to umpire.  Bill was inducted into the USATT Hall of Fame in 2010.  Bill continues to compete at high level, combining great reactions, an ability to read spin, and excellent strategy to baffle players of all ages.
Bill, how long have you been playing?
I started playing over 65 years ago in our basement and thought I was pretty good until I went to some tourneys when I was 16 and found I had a lot to learn.
Were you one of the founders of the South Park club?
The club started in 1958.  When I got there, just out of the Air Force in 1963, it was almost inactive.  I got it going again with the help of Tom Forrester (an Allegheny County Commissioner).  We got lucky around  1966 when some youngsters started showing up at the club.  They were Dan Seemiller, Don and Bill Zatek, and Joe Rokop.  They developed into the top junior players in the country and Dan developed into one of the best US players ever.
What have you enjoyed most about the sport?
I have gotten a lot of satisfaction over the years knowing that I helped get the Seemillers going and watching my sons take a great interest in the sport.  We have had great times as a family traveling to countless tournaments.
Best victories or matches?
I have won the PA State over 40, over 50, over 60, 5 times each.  I lost in the finals of the US over 70 championships a few years ago.
What is your view of table tennis in western PA?
The Pittsburgh area was the center of Table Tennis in the 70's and 80's.  Dan Seemiller had his own club and many top players in the US either moved to Pittsburgh or came for extended times to train.  This has long since passed but is still an active area.
How can we improve pong locally?  Nationally? 
The more active clubs we can have in area, the better it is for the sport.  Someday a youngster will show up and develop into a champion.
Tell us more about yourself.  What is your profession?
I am a self-employed Optometrist, as is my son Mike.  I graduate from the Ohio State University, college of Optometry in 1960.  I have been retired since 2000.
What do you enjoy outside of pong?
Golf is another favorite sport of mine.  I used to have a single digit handicap and was my Golf Club champion.  I still play over 100 rounds a year.